Education Week – Thursday: #ThrowBack Thursday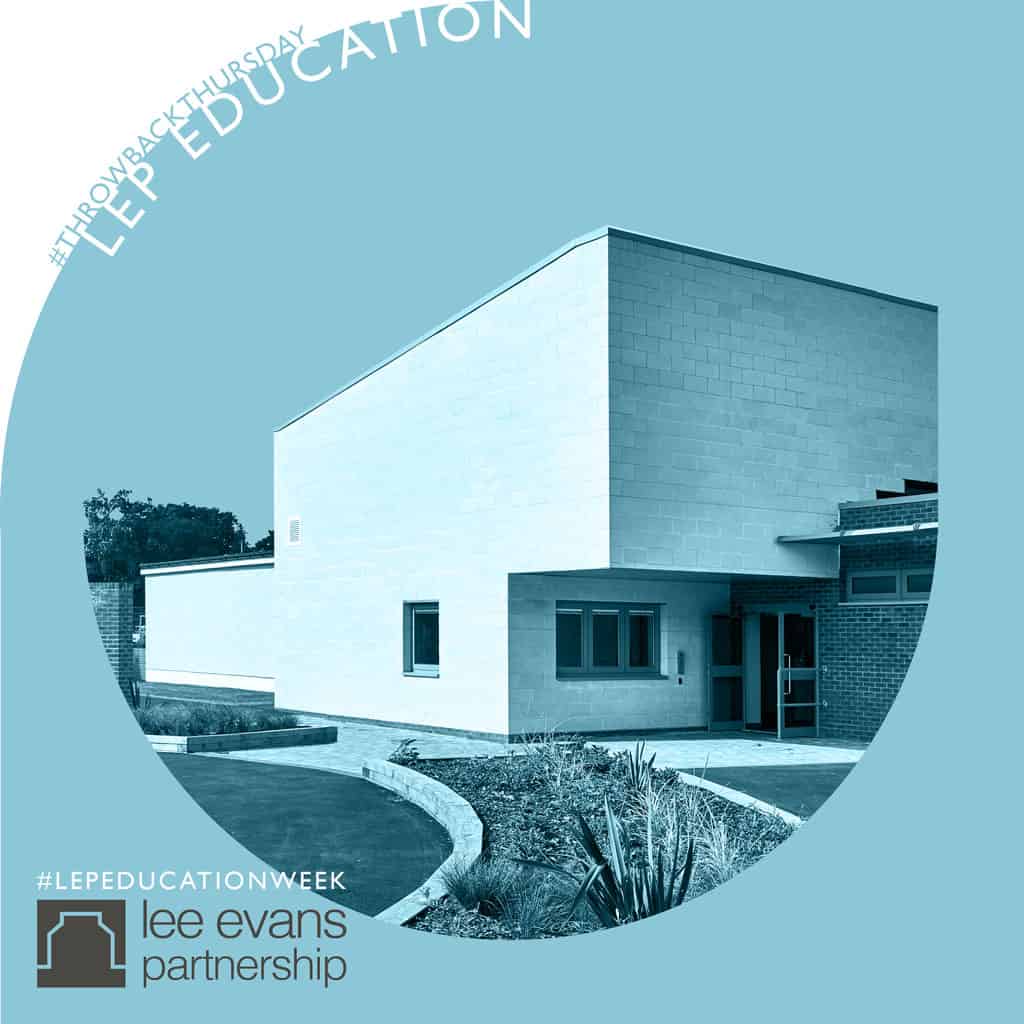 Today, we take you back in time to review some of our past education schemes…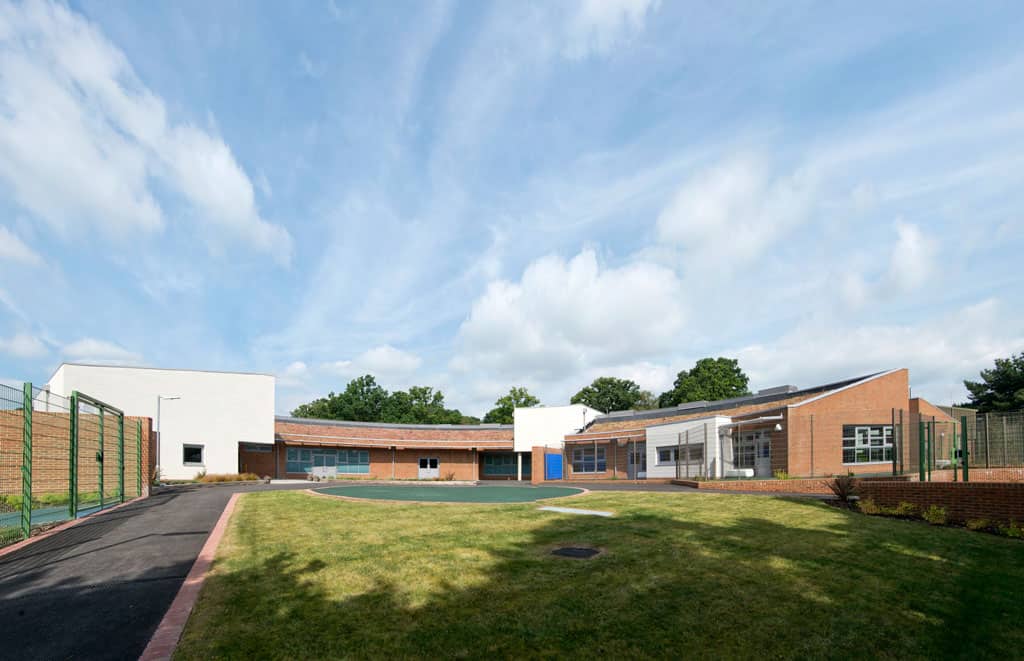 Completed: 2016
St Piers School sets out to reset the benchmark for SEN school design. A key design driver for this project was the creation of a safe and secure environment, providing a nurturing, caring and student-orientated school for young people with complex severe neurological conditions, often in conjunction with other learning difficulties.
The curved 'horseshoe' plan of the building avoids long institutional corridors, whilst helping to minimise the buildings external appearance, ensuring that it does not dominate the adjacent school buildings. Presenting its 'smallest' elevation to visitors, the curved shape of the building creates a welcoming and secure inner courtyard.
Facilities including a Da Vinci Suite, Food Technology Suite, Indoor Swimming Pool, Creative Arts Suite, 4D Immersive Suite, Therapy Studios, Soft Play are strategically located throughout the building.
In designing this highly specialist school, a collaborative process involving the local authority, school governors, teaching staff, carers, parents, and the students themselves was undertaken. Various interactive workshops were initiated which allowed our architectural team to tease out the areas of design most important to the building users, and allowing us to gain a real insight into how space could be effectively used.
Awards
Shorltisted for the RICS Awards 2017
---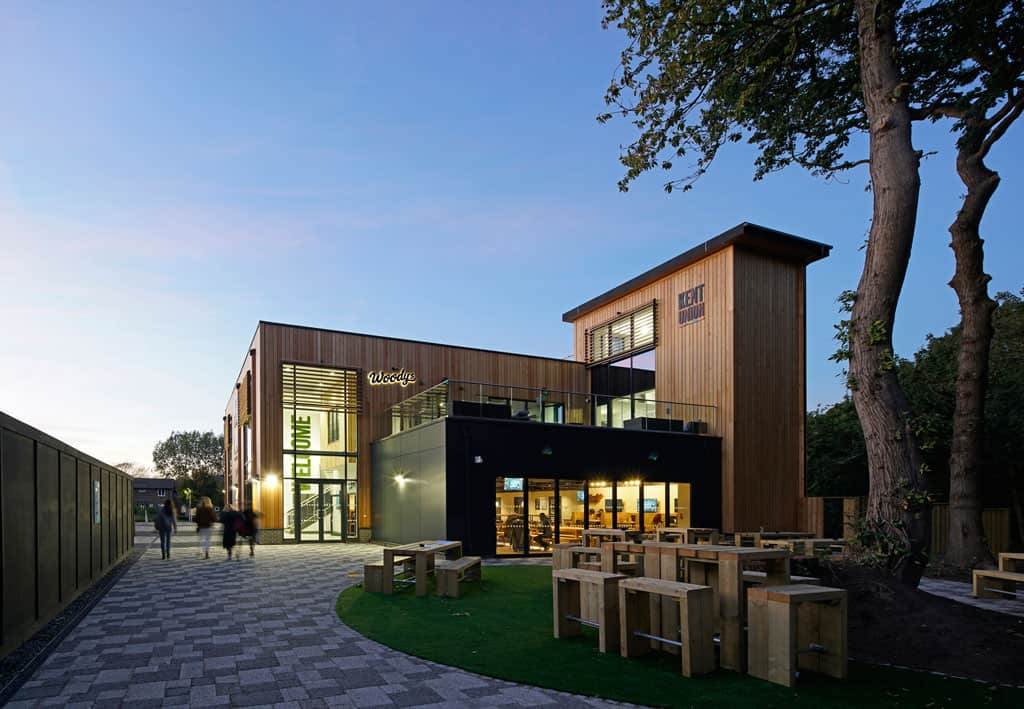 Completed: 2018
Nestled between native woodland and the Park Wood student village at the University of Kent, Canterbury, is the new Woody's Bar and Student Union facilities, providing a vital social hub for those studying and living on campus.
Social interactions are an important aspect of student life, which has been carefully considered in the design of this inclusive and accessible multi-use building.
Woody's Bar provides a spacious yet welcoming facility, with a relaxed ambiance across two floors. Extensive indoor and outdoor seating overlooks adjacent woodland.
The building is also equipped with a study hub and two dance studios, providing students with the ability to learn and study close to their digs. A new student shop, offering living and study essentials is also incorporated on the ground floor.
The steel frame and pre-fab SIPS construction led to a speedy build process – saving time and money, helping to ensure the scheme was delivered on time and on budget. External larch cladding gives appreciation to the woodland location, whilst softening the scale of the building.
Constructed by Jenner Contractors, the building has received praise from students and staff, and is fast becoming a social centre for the University.
Awards
RICS Awards 2019 – 'Highly Commended', Retail & Leisure Category
---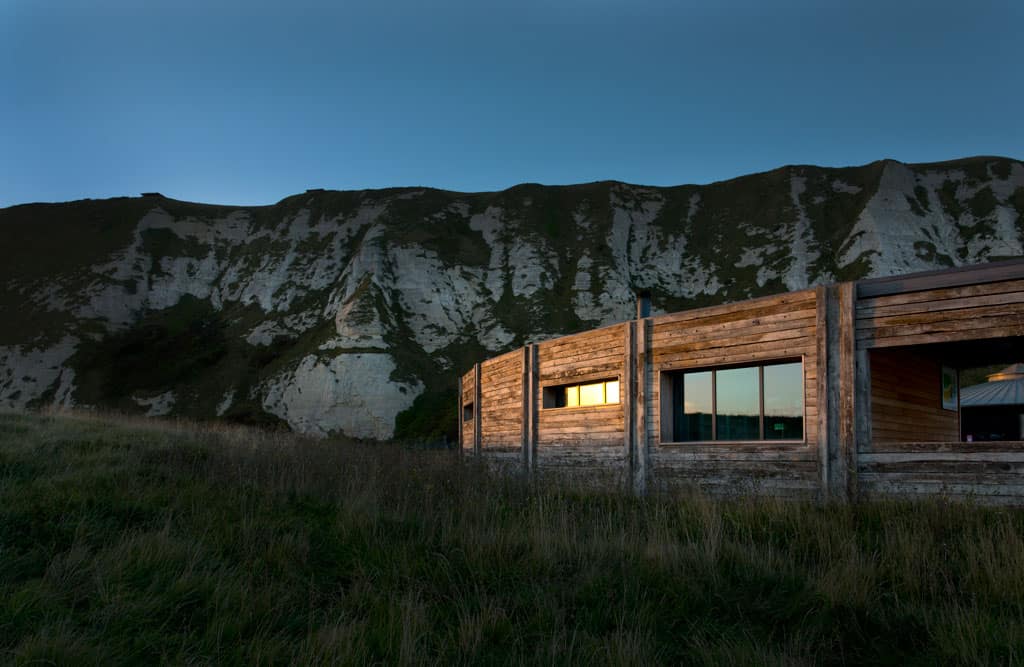 Completed: Sept 2014
Samphire Hoe Education Shelter is a space where visitors can learn about the dramatic and dynamic natural environment and the origin of Britain's youngest piece of land, the Samphire Hoe peninsular, created as a result of the spoil from the construction of the Channel Tunnel.
Designed specifically for the harsh environment, the building acts as an effective wind break to enhance the visitors' experience whilst visiting the country park and using the facilities on offer.
The use of railway sleepers, recycled directly from the Channel Tunnel track, was derived from their common use at local coastal locations, and its form is reminiscent of the historic defensive structures dotted along the Kent coast.
Awards:
CIAT Award for Excellence in Architectural Technology 2016 – Highly Commended
Shortlisted for: Civic Trust Awards 2017, Kent Design & Development Awards 2016
---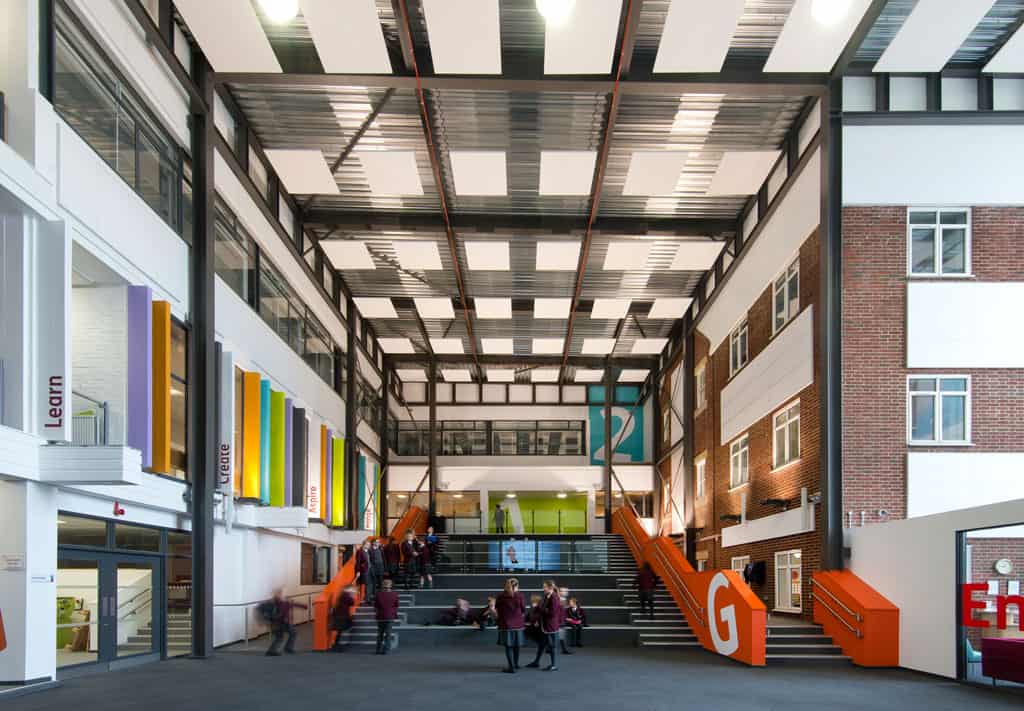 Completed: Sept 2014
Designed by LEP, Gildredge House is a 'through' school delivered under the Scape National Framework in 2014, catering for approximately 1,200 pupils ranging from reception age up to year 13 (4-18 years of age).
The scheme successfully amalgamates existing Victorian office buildings (formally housing the NHS Dental Records Database) with modern interventions to provide a school specifically tailored to meet identified local needs.
The multi-use performance space (or 'MUPS' as its commonly known) instantly became the centrepiece of the new school. A steel frame, flat roof over and 120m² of curtain wall creates a simple enclosure over an existing windswept courtyard and now acts as the school's primary entrance and also houses a 10 m wide staircase capable of sitting more than one school year.
---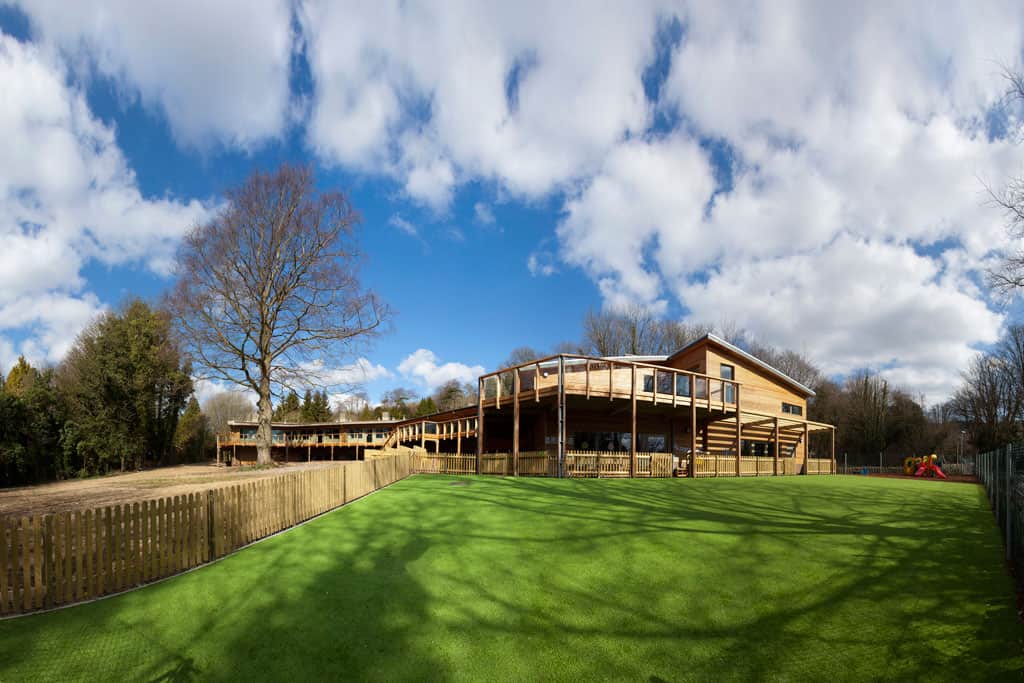 Completed: 2013
The new Pre-Prep school at St Michael's School has a curved plan hugging an established stunning copper beech tree. Set on a woodland-covered hillside, one of main design focuses was to reflect the natural surroundings. The building is larch-clad with a living roof to allow it to blend beautifully into its environment.
Split over two levels, the building provides 6 classrooms, hall, dining room and library on its upper level, and nursery and kindergarten facilities at lower.
Heated via a ground source heat pump and extremely thermally efficient throughout, the building has strong sustainability credentials providing the school with a superb educational environment to help maintain the existing impressive standard of education already delivered.
Awards:
Shortlisted for the Kent Design & Development Awards 2014
---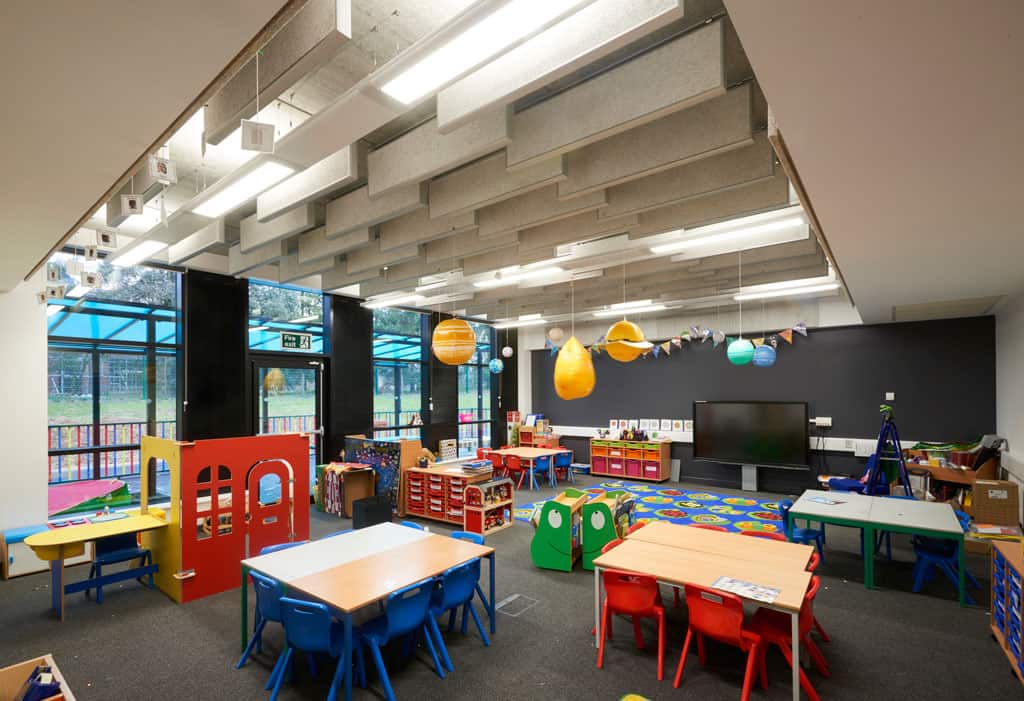 Completed: 2015
Procured as part of Kent County Council's 'Basic Needs Programme', Valley Invicta Primary School at Leybourne Chase is a new one form-entry primary school for 210 pupils, incorporating specialist resources for pupils with behavioural, social and/or emotional difficulties.
Located on a tight site, the school has been designed as two storeys to minimise the footprint, to allow for future expansion as local needs dictate.
The design follows a "Fabric First" approach, reducing running costs whilst still providing an affordable building. This approach included analysing the design at early stages to make decisions on orientation, amount of glazing, and shading requirements.
Despite a tight budget and restrictive site, we wanted to create a building which responded to its rural context, with the simple rectilinear form echoing local agricultural buildings.
---
If you'd like to discuss any education projects, get in touch with our wonderful team.
Contact us by email at architects@lee-evans.co.uk, or call us on tel. 01227 784444.