LIVING WEEK – Covid's Legacy on Our Homes & Communities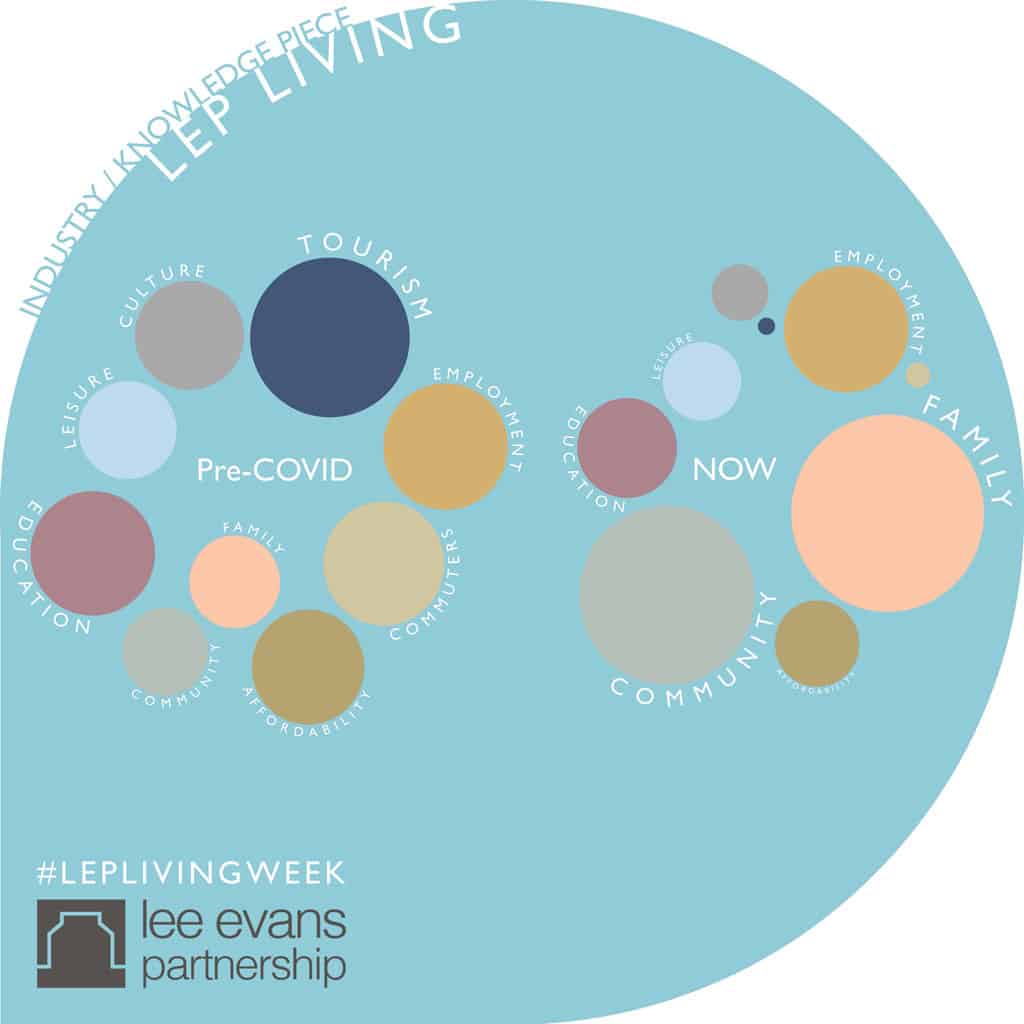 Sometimes it takes a global pandemic to help focus our minds and realise what is important to us. Liz Gibney, LEP partner and head of the Living Team, talks about how she envisages our homes and communities will look in a post-COVID world.
Ask almost anyone, and there will be a consensus. Over the last 14 months, the presence of Covid-19 has led to a change in perceptions about how we live our lives. Spending time locked-down in our local areas has shifted our focus to value our local communities more, along with a desire to feel more of a sense of integration into them.
Homeworking has now become standard practice for many, with an increasing amount of employers seeing the value in offering this as a flexible working opportunity moving forward in a post-Covid climate – Indeed at LEP we envisage staff sharing their time between home and the office.
As such, the daytime demographic within communities has shifted – a change which seems likely to last. Those with spending power and plenty to offer their community are staying closer to home, rather than spending the majority of their day light hours in cities or commuting. This is creating more positive local investment and has great potential for impactful change moving forward.
As a society, we are certainly embracing the outside world more. In fact, 'outside' is now being seen as a destination in itself. By thinking more about outdoor spaces and how these contribute towards great places for people to live, urban designers and masterplanners have an opportunity to ensure that communities are designed to address modern ways of living, addressing ways which we want to live our lives moving forward.
Although not a new concept, the '15-minute city' (or '20-minute neighbourhood') approach to urban design has never been more pertinent. The idea here is that everything you need – jobs, food, housing, education, medical care, recreation and green spaces, etc. – are within a 15 (or 20) minute radius by foot, bike, or public transport, thus creating improved quality of life, whilst also reducing our impact on the environment by removing reliance upon cars.
Adopting this type of approach will give communities the opportunity to grow and develop beyond merely reasons of their proximity to larger, more dominant settlements. Increased investment at local level will allow more and more to be offered to residents, creating bespoke (and better) neighbourhoods for all.

A potential post-Covid future, with more balance to priorities
Cost of housing will always be a key factor, but by investing more locally it is hoped that the 'value' a community will offer will replace cost as the predominant driving force when considering where to live.
Of course, Covid has also highlighted a huge disparity within our society. The effects of the pandemic have pushed more and more households into hardship – with an estimated 15 million people now classed as being in poverty. Not only has the effect of job losses, welfare cuts, wage reductions due to furlough, and higher living costs taken their toll, but those suffering hardship are also likely to live in more densely occupied areas, making social distancing more difficult. Unhealthy lifestyles – often due to lack of amenities – are also putting people at risk of negative effect from Covid.
These are recognised problems within our society, and further emphasises the dire need for more affordable housing within healthy and resilient communities.
It is perhaps easier now than ever to see what needs to be done to create better societies for all. However, with established big-players in the field of homebuilding largely driven by profit margins, it may perhaps be difficult to create the big step change that is needed. But Covid is giving us a chance to pave a way forward.
After cholera, Victorian terraces with their rational drainage were built in abundance.
Following the Spanish Flu, 'suburbia' was born, with its spacious semi-detached homes and large gardens.
Both of these dramatic scenarios helped create some of the most popular and successful house typologies ever built. What will our legacy be from the Covid-19 pandemic? We certainly cannot afford to miss this opportunity to create a better world.
---
If you have an idea for an exciting residential project – big or small – get in touch with our wonderful team.