Modern extension to Listed City Centre Home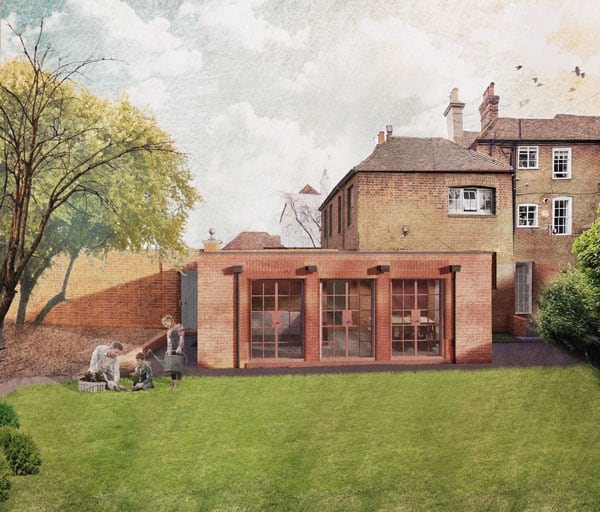 Small but perfectly formed – LEP's architecture, heritage and interiors teams have joined forces to design a delightful and elegant family home in the heart of historic Canterbury.
Following a submission to the local planning authority for a significant internal refurbishment of the existing house, the owners soon realised that the existing configuration was restrictive, with the kitchen disproportionate to the size of the property. Wanting to create a space more suited to their lifestyle, a rear extension was imaged, with LEP working closely with the home owners to find a solution which both suited their needs, whilst preserving the historic nature of the Listed building.
The modest extension sits at a smidge over 20m2 and with a strategically low flat-roofed design, the extension will sit inconspicuously below the line of the existing boundary walls, making it invisible to those passing by the property.
Although built in reclaimed brickwork to match the finish and bond of the existing home, the new extension can certainly not be considered a pastiche: A sleek, modern glass link will join the new to the old, and will flood the space with natural daylight.
Having received initial positive feedback from the local council, LEP is looking forward to tracking progress of this application, and hope to see an approval in place in the near future to allow the homeowners to realise their ambition.