GIVE BLOOD!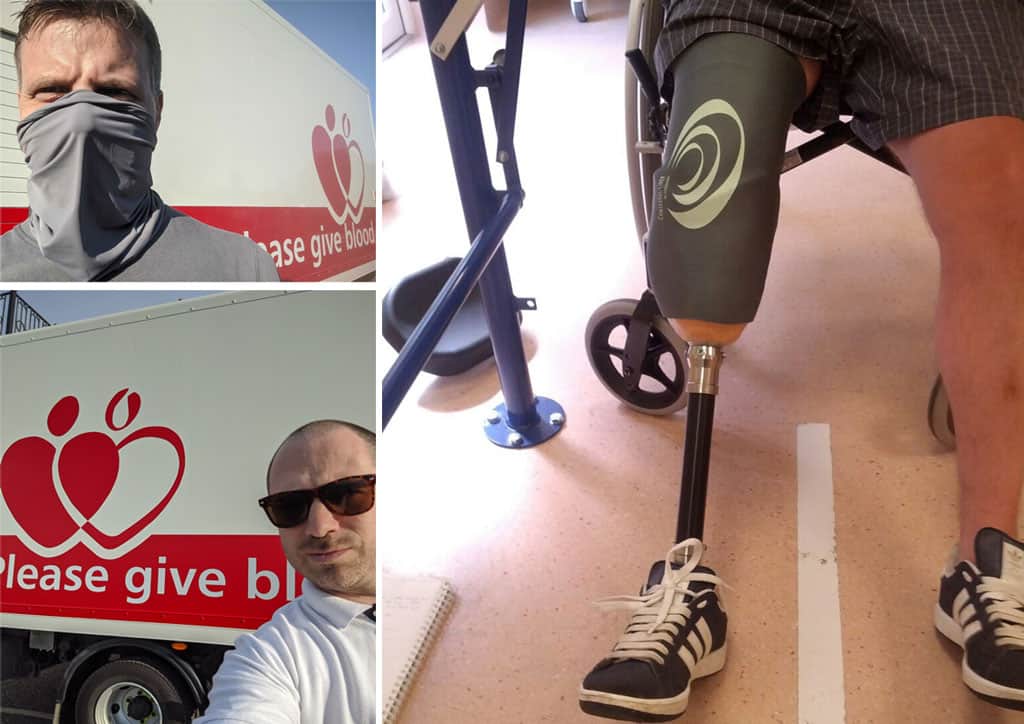 Over the coming weeks, we'll be sharing with your some 'good news' stories and a snap-shot of what some of our amazing LEP family have been getting up to during lockdown… 
GIVE BLOOD!
Ever considered giving blood? Have you wondered what it really involves? Curious about giving blood during the pandemic? Read the first-hand experiences of some of Team LEP.
Neil's Story…
During lockdown, Associate Neil Franklin achieved an amazing accomplishment – giving his 40th blood donation.  According to information published by the NHS Blood Donation team, each donation can save or improve up to 3 lives… that's potentially 120 people who Neil's donations have gone on to help!
Neil shares with us his latest experience of giving blood… a little different to his usual!
"I've seen many changes to the way I give blood since I started 15 years ago. However, giving my 40th pint of blood was certainly a very different experience from the previous 39.

"Pre-pandemic, you could simply turn up and await your turn to be called, sometimes waiting for over an hour in a cramped and crowded hall.  Today, however, was a strictly-booked appointment with stringent rules on social distancing and wearing face coverings at all times.

"Arriving for my pre-booked appointment slot, I answered some questions on my current health and was asked to thoroughly sanitise my hands.  I was really impressed with the efficiency of it all, and waited a mere 5 minutes to be called over for the usual iron count assessment, rather than the typical one hour plus! It was then a quick drink (I took my own, just to be safe) before being taken over to a reclining seat for the donation. Five minutes later I was sitting back at the table finishing my drink. In all, the experience lasted about 15-20 minutes, socially distanced at all times other than when the nurse came over to take the donation.

"People give blood for many reasons, whether it`s their way of helping in some small way, or whether they just come for the tea and biscuits… We all have our reasons – and each one of them is valid in their own right. The NHS blood donation service, more than ever in these challenging times, really could do with these donations. Myself, along with a number of my colleagues at LEP will endeavour to continue this support….on to the next 40."

Phil's Story…
Following an insightful news item by BBC Radio Kent which stressed the need for more male donors, Associate Partner Phil Ward also signed up as a blood donor, making his first donation in February.  The news story spoke about a young boy who needed regular blood transfusions to stay alive; however, the drop in male donors was causing concern that a suitable local supply could soon run out.  Having young children himself, this plight pulled at Phil's heart-strings.
"There and then I decided to stop mucking around and I signed up to give blood (I had never done it before). I've since given blood a second time in June, and I'm booked again for September.

"The procedure is very quick and easy, and above all, pain free. Once they check your blood is suitable, they sit you on a recliner and elevate your legs. It takes about 10 minutes to take approximately 550ml of blood, and afterwards you stay for a drink of water and a few choccy biscuits. Then you are done. The blood is then taken away to be screened, cleaned and distributed. The whole process is simple, efficient and easy – with a simple app to manage your appointments.

"They later send you a text to let you know where your blood has been used. Receiving those messages really puts the whole process of blood donation into context, and you really get a sense of being involved in something wonderful".

Bloody amazing effort guys (pardon the pun!)

Darren's Story…
Those of you who know Associate Partner Darren James will more than likely be aware of his story. Back in 2013, Darren was involved in a car accident which left him with devastating injuries to his right leg, which unfortunately required amputation just below the knee.
Due to the trauma and operations, Darren required a large amount of blood – almost a full transfusion.  To him, the gift of blood meant life or death, and he will be forever thankful to those who donated the blood which helped save his life.
"At the time of the accident, considering where the blood that was keeping me alive came from was furthest from my mind.  However, once I was through the operation and recovering, the thought that every day people from every walk of life have donated blood to help people like me, who they have never met, was incredibly humbling.  To say that I am thankful for their donations is an understatement – I literally owe them my life."
The NHS needs at least 5,000 donors to give blood every single day to meet patient needs.  If you are interested in finding out more about donation, please visit https://www.blood.co.uk/why-give-blood/