Hartsdown Academy Completion – Cost Effective Innovation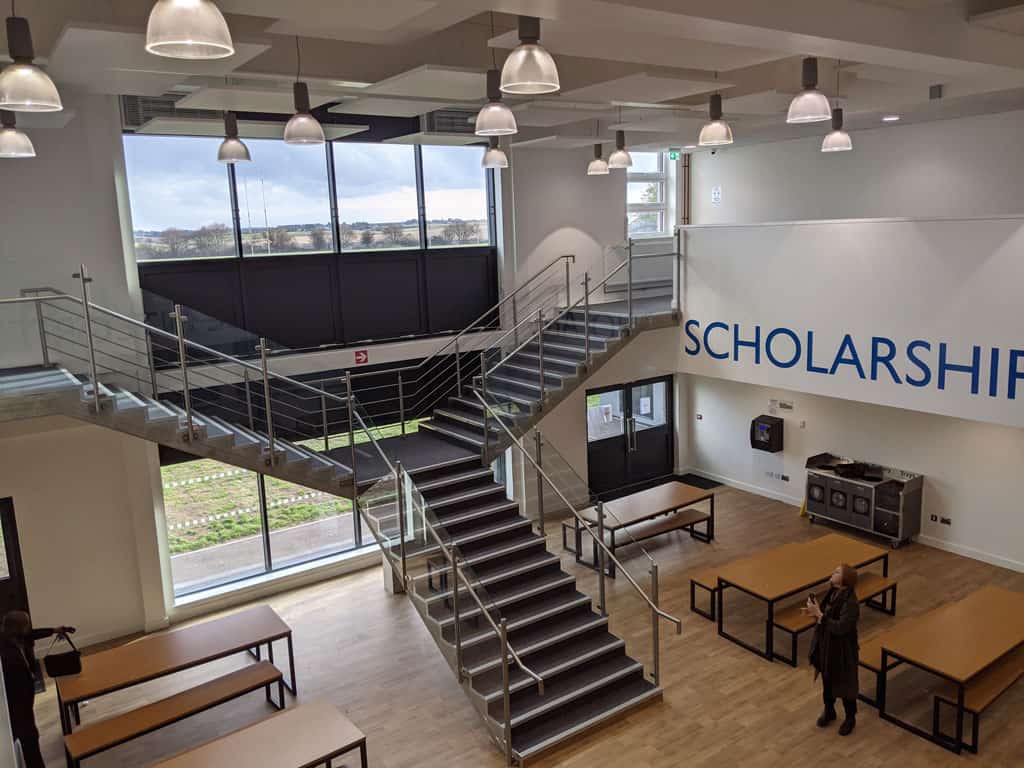 There is always a great feeling of pride when visiting a successfully completed scheme, especially one which you have had involvement with from early design stage through to conclusion. On Thursday 15th October, Associate Partner Darren James and Part II Architectural Assistant, Sophie Lamarque visited the new school development at Hartsdown Academy in Margate, Kent, to see their hard work and vision realised.
LEP delivered Hartsdown Academy with Kier Construction as the first of a batch of three schemes for 'Priority School Building Programme 2 (PSBP2)' for the Department for Education (DFE). This challenging, fast-paced programme saw initial engagement meetings developed into a fully designed building over the course of just a few weeks – no mean feat for a project of this size.
Delivering the project through BIM provided the mechanism for much efficiencies, ensuring the entire design and construction team could work collaboratively and effectively to deliver the project on time. Saying this, it was a very tight balancing act of designing a building which captures the school's aspirations, whilst remaining within the DFE and contractor's budget. This meant that we had to work very closely with the contractor during the design process, ensuring we could stay within the cost plan whilst delivering a quality building to suit the school's needs.
Cost effective design…?  Challenge accepted!
As a project for the public sector, you can appreciate that the DFE are obliged to ensure public funds are spent well, and therefore the budgets allocated to the PSBP2 school projects are not excessive. Some architects and designers may see limited funds as not conducive to innovative design approaches; However, at Lee Evans Partnership we see this as an exciting challenge. We worked hard to create interesting and inspiring spaces for students to learn and socialise in, as we feel fundamentally this is what contributes to a positive and productive learning (and teaching) experience.
The dining hall, in particular, provides an impressive light and airy double height space with feature 'floating' staircase connecting both sides of the school to a central core – a space of unity within the building. By using a precast concrete design and working closely with the sub-contractor to development the stair, we were able to slim down the design to create an elegant and well-proportioned feature, without adding unnecessary cost.
The toilets were another area where we feel the design is a huge success. WCs are not usually a space of inspiration within a school building, but at Hartsdown, they are somewhat out of the ordinary. Instead of defined closed off space, we incorporated open toilets within the circulation space (see image below). This concept has advantages other than simple cost savings – school toilets are notoriously the place where vandalism and bullying may be prevalent within the school environment, and by increasing visibility in these areas, it is hoped that these negative activities will be severely reduced.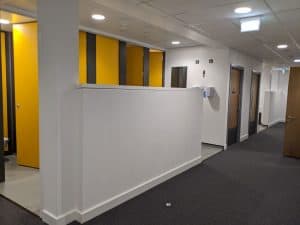 Externally, the mass of the building is 'reduced' by the use of a dark colour palette. Care and consideration to detailing of corners and window reveals was important to ensure the industrial-looking cladding material could be incorporated into a school building to achieve a modern and elegant finish. Eye-catching red reveals, the School's colour, were added to windows to further break up the façade, giving interesting flashes of colour when viewed from different angles.
The end product is a well-considered and inspiring school building, which fits happily within its external environment. Although challenging in terms of time scales and budgetary requirements, the LEP team found this scheme a pleasure to work on, and are delighted with the results.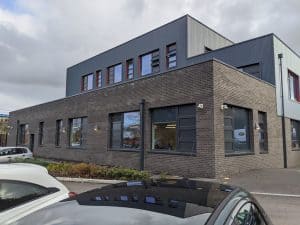 Nurturing the Next Generation of Architects
Every year, LEP support and nurture promising up-and-coming architects and designers. LEP's Sophie Lamarque is currently studying for her Part III qualification to become a qualified architect, and worked on the scheme from concept to completion. She said:
"It's been great to see the team's design come to life, with the school fully settled in and enjoying their new learning environment. The new dining hall provides an exciting, dynamic space for the school to be proud of, encouraging a real sense of community for the students.
"While studying for my Part 3 course, the onsite experience within stage 5 construction has been invaluable towards my learning and confidence. Being involved with Hartsdown Academy from the very early stages has provided me with first-hand experience of the processes and journey, particularly in design and build procurement."
Following the success at Hartsdown Academy, the LEP education team look forward to completing works on the other two PSBP2 projects at The Warwick School in Redhill, and Simon Langton Girls' Grammar School in Canterbury. Watch this space for project progress reports on these schemes.