LIVING WEEK – Pipeline Projects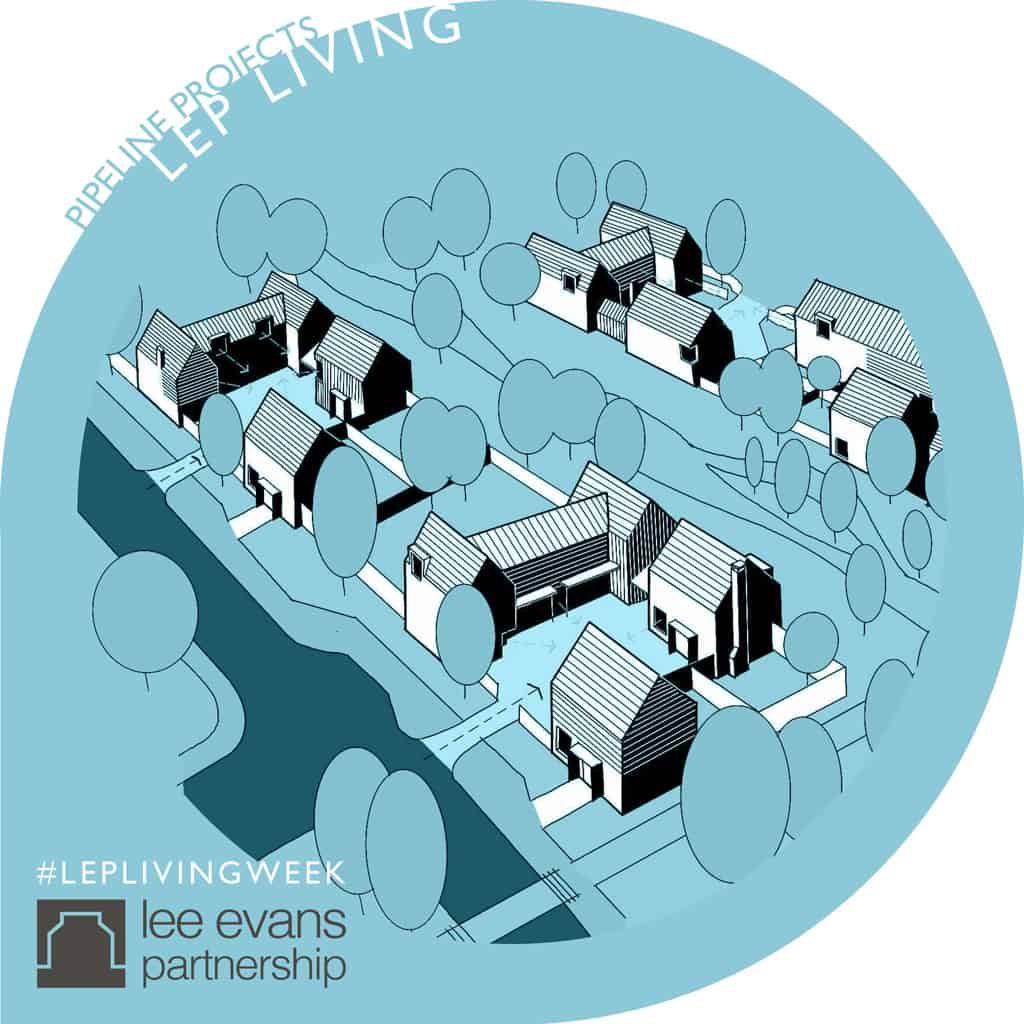 On Day 2 of 'Living Week', we're delighted to share with you a selection of schemes currently being worked on by our talented team.
From large-scale community masterplans to one-off bespoke barn conversions, LEP Living has an exciting portfolio of work in the pipeline.
Cover Image & Video: This courtyard arrangement is a unique configuration of homes with private gardens. Each multi-sided house has an active frontage with parking providing a passive surveillance element, making the street and park feel part of where you live.
---
Snowdown Colliery
The Living Team is delighted to be working on an exciting masterplanning scheme at the former Snowdown Colliery site near Dover, Kent.
We are working closely with the site's owners to develop a plan to rejuvenate this redundant mining site, creating a new community where people can live, work, visit and stay. The site will be developed to embrace its industrial heritage, with a combination of housing, retail, hospitality and leisure offered to residents, and the creation of many local jobs providing a range of employment options.
The client and design team have exceptional aspirations for the site in terms of sustainable development and are exploring innovative methods to tackle climate change, which is being integrated into their design approach. This, alongside the significant economic investment into the regeneration of this brownfield site, will create a resilient and thriving community based with a strong identity and community-focused ethos.
Lee Evans Partner, Liz Gibney, said of the scheme:
"A long term vision for investment in Snowdown and Dover District, this scheme will support business growth through the creation of local employment.
It is hoped that this scheme will create an internationally unique destination for the region, combining leisure, retail, hospitality, and homes; all with exceptional and pioneering aspirations to tackle climate change. A true flagship scheme."

Outline masterplan proposals
---
Barn Conversion, Kent
Currently on site and nearing completion, this project provided a wonderful crossover with our Living and Heritage Teams, where we successfully gained planning permission for the conversation of a derelict wing of an early 19th Century 'model farm' to provide a new dwelling and office space for the working farm.
Once part of the Godmersham Park Estate, formerly owned by Edward Austen Knight, the brother of author Jane Austen, this Grade II Listed property was also said to have once been the hunting lodge of King John.
Living Team member Sammy Bikoulis worked closely with John Minter of our Heritage Team to develop a careful and thoughtful interior design package, sympathetically integrating modern interventions juxtaposed with the existing historical material.
We specified breathable and sustainable materials for the conversion, and re-used existing brick, timber, slate and iron from the site wherever possible.
Externally, spalling brickwork and damaged or missing joinery have been very sympathetically repaired so that the history of the building can clearly still be "read".
The resultant design is a bright, innovative family home which retains its significant historic material, ensuring its preservation for many years to come.

In progress – modern family kitchen and heritage features
---
Coastal Development, South Coast of Kent
Currently in for planning is this delightful development of 46 new dwellings, being a mixture of houses and generous apartments, located on the south coast of Kent.
The contemporary approach to this scheme has been developed by drawing inspiration from the form and materials observed by studying the surrounding coastal area.
With sea views and a location on the edge of an Area of Outstanding Natural Beauty, a strong landscape character is present at the site. The location, together with the anticipated high-quality finish and fit-out of the scheme, will ensure these properties provide a wonderful home for their future residents.

Design concept for coastal scheme
---
Boutique Residential Scheme, West Sussex
Located close to an important Conservation area, this small boutique development of two family homes has been specifically designed to respond to the limited site area and to complement the local vernacular.
The agricultural history of the site has been reflected in our design philosophy, with a courtyard arrangement to the front of the properties. This also ensures we were able to maximise the use of the space, as well as providing an opportunity to clearly define private garden spaces.
Externally, materials have been selected to reflect the semi-rural and agricultural history of the site. Areas of red-stock brick and stained boarding have been incorporated, reflecting the local area, with roof finishes completed with grey zinc sheeting, providing a modern take on an 'agricultural barn' aesthetic.

Boutique scheme in West Sussex
---
Urban Infill Project, London
Sited on the outskirts of London, this small urban infill scheme has been designed by our Living Team, with planning support from LEP Planning.
Positioned on a compact urban site, the scheme seeks to maximise space and development potential by creating commercial space at ground floor level, with a development of one-bedroomed apartments above. The form and arrangement of the building has been carefully considered to overcome the site restrictions, whilst positively complementing the local area.
Currently in for planning, we are hopeful that this scheme will receive approval in the next few months.

Urban infill scheme, London
---
Large-scale Masterplan Scheme, Kent
This large-scale masterplanning scheme seeks to provide a new community of homes at a location in Kent.
The proposals have been wholly developed based upon thorough research of the site and the needs and desires of the local community. It is envisaged that around 325 new homes will be created, supplemented by dedicated wildlife zones, public open space and amenity routes, sustainable drainage solutions, and a creative landscaping scheme designed to attract and provide a haven for native species.

Partial masterplan detail
---
If you have an idea for an exciting residential project – big and small – get in touch with our wonderful team!