LEP Interiors create Stylish Dining Hall for Orchard School, Canterbury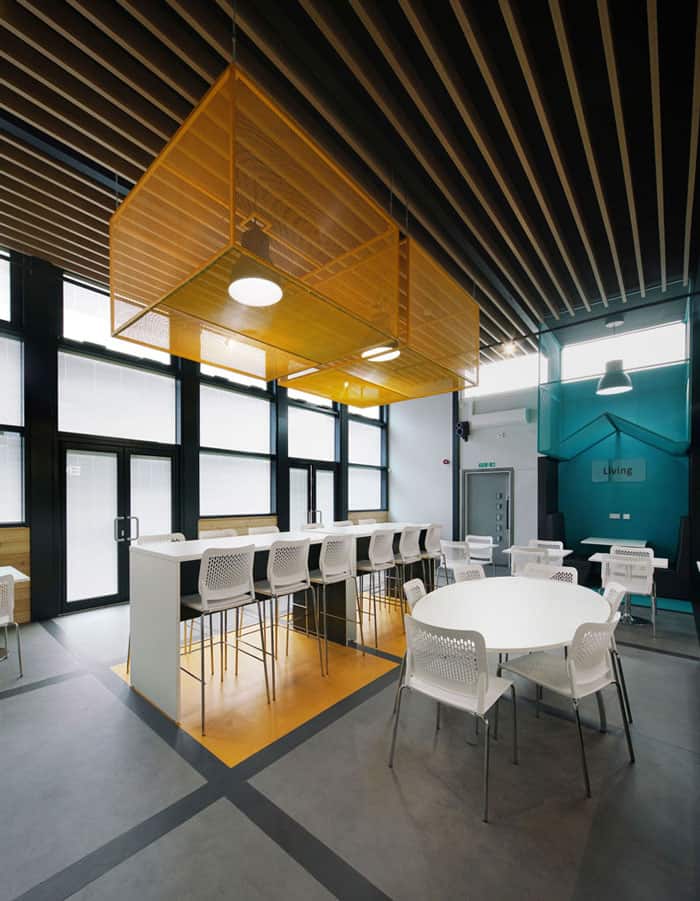 Catering for 83 pupils with behavioural and learning difficulties, The Orchard School in Canterbury specifically tailor their programmes to meet the needs of each pupil, encouraging and developing skills and behaviours to help them reach their future potential.
Lee Evans Partnership's interiors team was employed directly by the school, following a previously successful scheme at their Canterbury campus, to review their existing dining facilities.
The Brief & Design
As a specialist school providing education for pupils ranging in age from 8-16 years, it is important that communal spaces, such as the dining hall, meet the needs of all age groups.
The school asked for a contemporary design with an industrial yet whimsical feel. Providing a space which the pupils could enjoy and have fun in, whilst also being a robust and safe environment, was a key focus for the team.
The project brief required a space which could act not only as a dining hall, but also as a place of assembly. The colourful caged lighting features allow for the space to be zoned at ceiling level, without compromising on the flow of the hall.
Our design purposely provides a sense of openness. Some of the pupils have a fear of busy, public spaces, and so with a combination of communal-style canteen seating, together with cosier 'nooks' and smaller tables where pupils can feel less overwhelmed, the space can provide a comfortable range of areas to meet many needs.
We also re-explored the way the pupils would be using the servery area, ensuring that this remained a social, yet practical, space.
Together with improving the flow of the hall and the interior aesthetics, the design also provided much-welcomed upgrades to acoustic and thermal performance, again contributing to user comfort.
Our interiors team worked very closely with the school and main contractor, local firm Kirby Construction, listening carefully to the specific needs of the users, to develop a robust yet engaging and stylish space which will meet the school's requirements now and into the future.
Photography: R. Greshoff