Return of the Expo!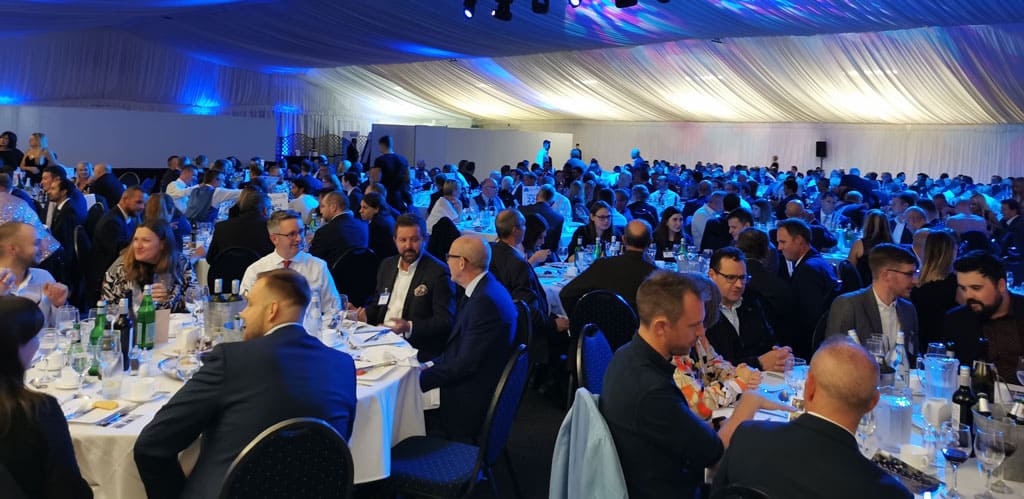 It's felt like a long time coming, but LEP was delighted to be Premium Sponsors at this year's Kent Construction Expo.
Seeing our friends and colleagues (and competitors!) come together to support the industry was a marvellous thing, and LEP thoroughly enjoyed the entire event.
The day kicked off with Partner Nick Lee Evans attending the early Big Networking Breakfast – which is always a great introduction to the day.  During the daytime events, Associate Marion Price worked closely with Willmott Dixon to deliver a talk on the zero-carbon goal in construction, and our Masterplanning Partner, Liz Gibney, discussed ways to create resilient communities in a post-pandemic world. We were delighted that both sessions were well attended and received great feedback from the audience, with both Marion and Liz commenting on the wonderfully friendly vibe of the entire day.

Marion Price delivering 'Zero Carbon – The Art of the Impossible'
Those of you in attendance at the Gala Dinner might have noticed that the LEP contingent was out in force! We know our staff are our superpower, and we wanted to invite our entire design crew along to ensure they felt part of the overall picture at LEP. It also allowed our clients and contacts to put faces to names, and allowed many of our more junior staff the experience networking in such a wonderfully supportive and encouraging environment.

The LEP Team at the Kent Construction Expo Gala Dinner 2021 – Don't we all scrub up well!
We were also delighted to be able to invite some of our esteemed contacts to join us for the evening, with guests attending from Kreston Reeves Accountants, Willmott Dixon, MidKent College, Gardiner & Theobald, Leigh Academies Trust, and Jarvis Homes – It was great to see you all, and we hope you had an enjoyable evening.
I think we can all agree that the dinner was a great success, and it was a pleasure to see so many in attendance – almost 500 people! The buzz of excitement in the room from the drinks reception, right the way through to closing speeches was palpable, with everyone is jolly good spirits!  As Premium Sponsors, LEP was also delighted to be able to contribute towards festivities by providing a wonderful bottle of local Chapel Down wine for each table – which we hope you all enjoyed!

Wine sponsored by LEP for the evening
As always, it was wonderful to hear from Jo James OBE, CEO of the Kent Invicta Chamber of Commerce, whose enthusiasm for Kent Businesses is always infectious. Her positive contribution to the industry and Kent economy as a whole has always been felt far and wide, and we congratulate her and her team for the success of the day.
Guest speaker, comedian Angela Barnes, was hugely entertaining, with her quips about her Kentish roots and perspective on life providing many belly-laughs around the room. If you get chance to see Angela in stand-up, we guarantee you'll not be disappointed!
The event organisers – Nick Litton and his team at Revolution Events – also deserve a particular mention for their hard work in pulling the event together seamlessly, with the great food and friendly waiting staff certainly contributing to the success of the evening.
We're already excited about next year's Expo, and look forward to seeing you all again soon!